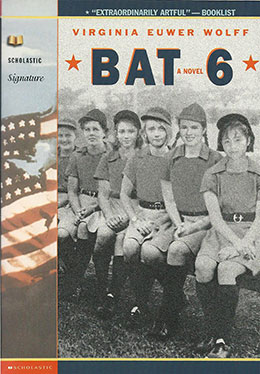 Scholastic , 1998
ISBN 978-0-756-90463-0 (hardcover)
ISBN 978-0-590-89800-3 (paperback)
Bat 6—that's the softball game played every year between the sixth-grade girls of Barlow and Bear Creek Ridge. All the girls—Beautiful Hair Hallie, Manzanita who gets the spirit, the twins Lola and Lila, Tootie, Shadean—they've been waiting for their turn at Bat 6 since they could first toss a ball.
This time there's a newcomer on each team: Aki, at first base for the Ridgers, who just returned with her family from a place she's too embarrassed to talk about. And Shazam, center field for Barlow, who's been shunted around by her mother since her father was killed on December 7, 1941.
The adults of the two towns would rather not speak about why Aki's family had to "go away." They can't quite admit just how "different" Shazam is. And that is why the two girls are on a collision course that explodes catastrophically on the morning of Bat 6, the day they've been preparing for all their lives.
American Library Association Notable Book, 1999
Jane Addams Peace Award, 1999
New York Public Library 100 Best Books of the Year, 1998
School Library Journal Best Book of the Year, 1998
Volunteer State Young Adult Book Award Master List, 2001-2002
"The ultimate, explosive meeting of the two girls on a softball field as members of opposing sixth-grade teams will demonstrate that wars may end, but the passions they foster—if unexamined—can make victims of the survivors. This ambitious novel is told in 21 different first-person voices; each member of the two girls' softball teams has one or more "turns" at bat as narrator, recounting bits and pieces of the story. Inevitably, a few of the voices sound distractingly similar, but a gratifyingly large number reveal complex, fully realized characters. Gradually, their individual vignettes merge into an extraordinarily artful portrait of a moment in American history that challenged our comfortable assumptions about who we were and what we believed. None of the 21 girls emerges unchanged from what happens during that fateful encounter nor, one predicts, will most readers of this powerful novel." (Michael Cart, Booklist)
"The period details and use of the vernacular are right on the money and always reflect the adolescent female point of view. At some point comes the liberating realization that it isn't necessary to keep the multiple voices straight and that the well-crafted account has taken on a life of its own. Wolff delves into the irreversible consequences of war and the necessity to cultivate peace and speaks volumes about courage, responsibility, and reconciliation—all in a book about softball." (School Library Journal)
"Wolff is especially deft in creating a transforming, bittersweet post-war atmosphere and winning portraits of members of the communities who support, respect, and encourage their young girls, but come to question their own roles in the tragedy." (Kirkus Reviews)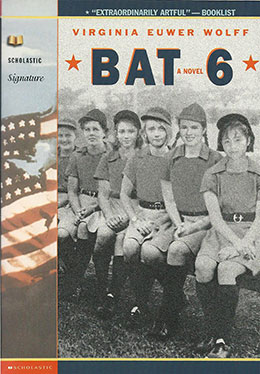 Scholastic , 1998
ISBN 978-0-756-90463-0 (hardcover)
ISBN 978-0-590-89800-3 (paperback)